You can use the IP Blocker tool in cPanel to stop malicious IP addresses from accessing your website.
Before using this tool you may want to check these guides:
How to see which IP addresses are reaching your website
How to block countries and IP addresses using .htaccess
Step 1 - Log in to cPanel (click here for a guide) and click on the IP Blocker tool

Step 2 - Type in the IP address and click Add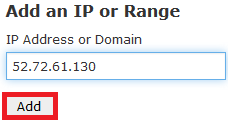 That's it! The changes should take effect instantly.
You can view the list of blocked IP's on the bottom of the page. To remove an IP block simply click on Delete