NOTE: This guide refers to the Advanced Zone Editor tool in cPanel. This tool is being phased out soon. We're working on updating our guides to use the Zone Editor. Until then, please click here for a guide to using the Zone Editor tool.
1 - Log in to http://portal.office.com/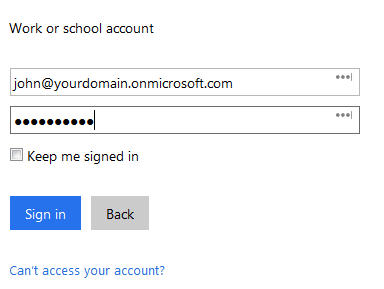 2 - Click the menu button in the top left then click on the Admin icon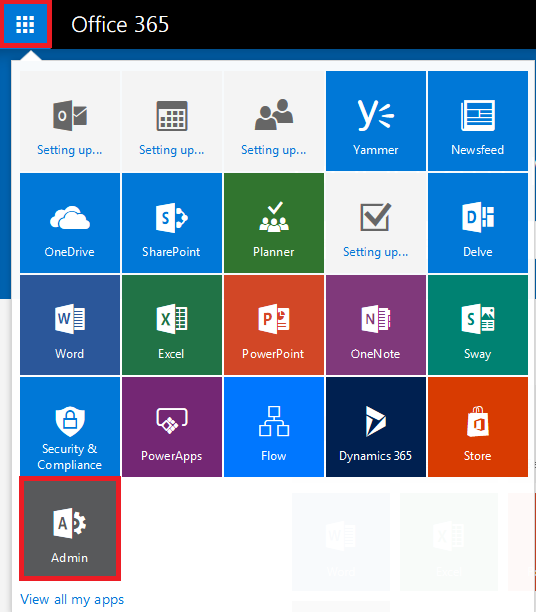 3 - Click on + Add a domain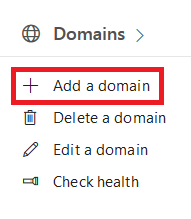 4 - Type your domain name in then click Next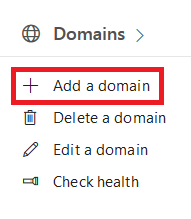 5 - Take note of the information on this screen then open a separate window and log in to cPanel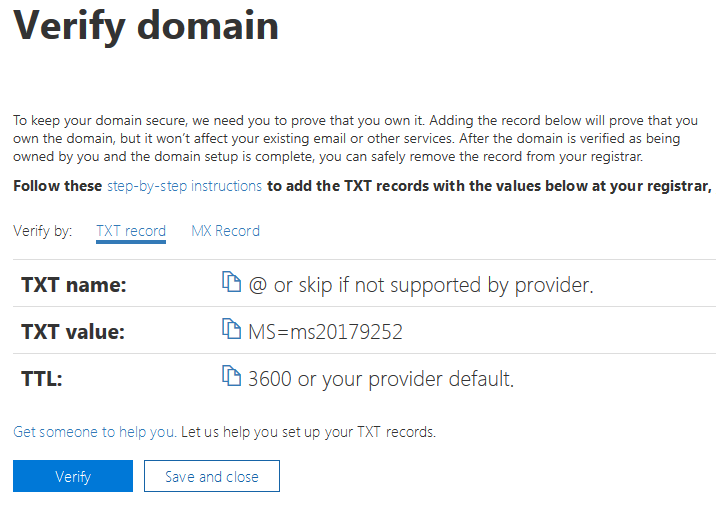 6 - In cPanel, click on the icon titled Advanced Zone Editor (or Advanced DNZ Zone Editor)

 7 - Add the text data so it looks like the bellow picture (off course, change the Name to the correct domain name and the TXT Data to the code Microsoft provided on the previous page)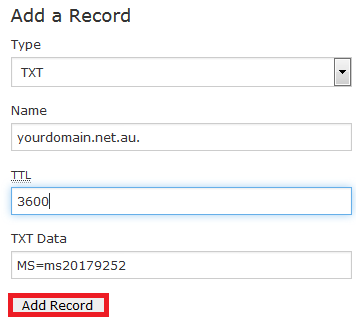 8 - Go back to the Office admin center and click Verify. You'll be taken to this screen. Select I'll manager my own DNS Records and click Next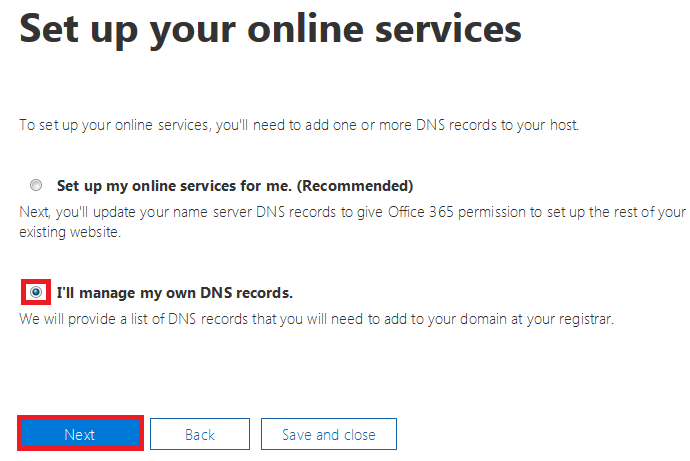 9 - The next screen will have a list of DNS records you need to add. Scroll past the MX records for now and look at the CNAME records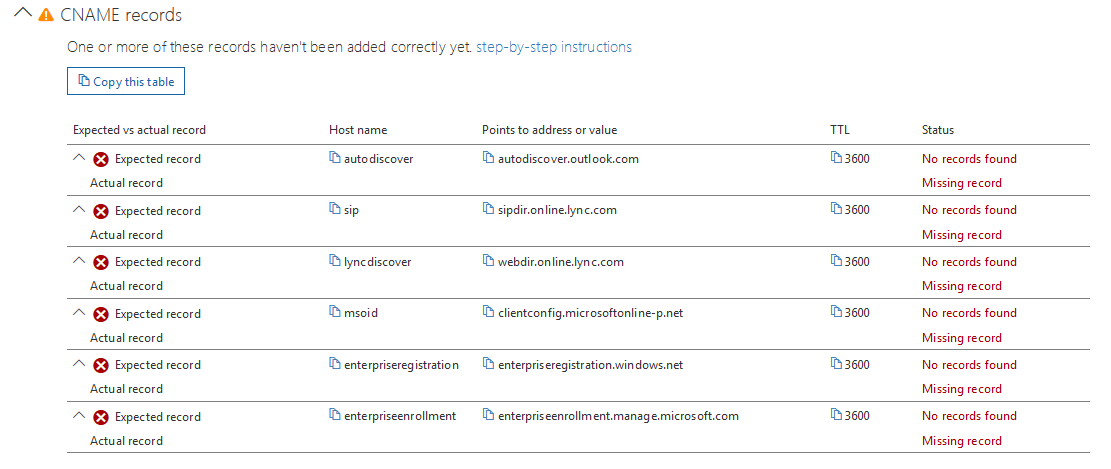 10 - Open up the window with the DNS Manager then press ctrl+f on your keyboard and search for the autodiscover. record and delete it. If you don't have that record skip this step. You may see both an A and CNAME for autodiscover. Make sure they are both deleted.

11 - Scroll back up then add each CNAME record.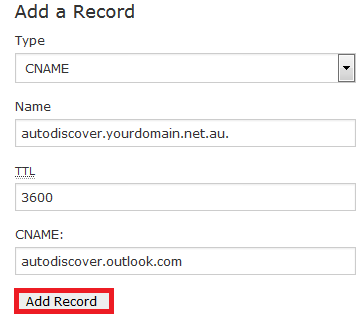 NOTE: When you copy > paste the records from the Office 365 window into the Zone Editor make sure there are no spaces pasted on either left or right of the data.
12 - Now go back to the Office 365 window and scroll down to the TXT record

13 - Add this record into the DNS Zone Editor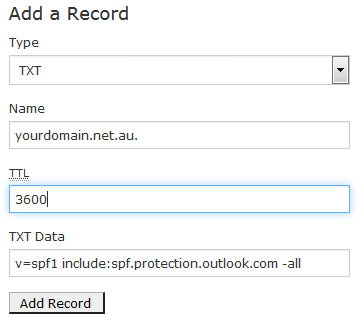 14 - Go back to the Office 365 window and take note of the SRV records

15 - Now go back to the DNS Zone Editor and add the records. Note that you don't need to add the Service or Protocol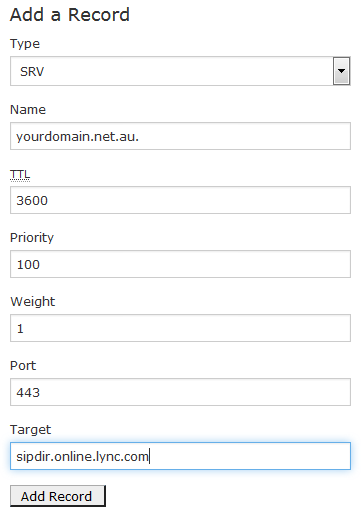 16 - Now scroll up and hit the Home button to return to the main cPanel screen

17 - Click on the MX Entry icon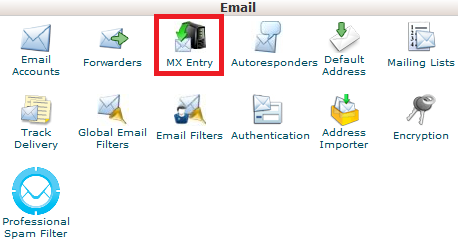 18 - Click on Remove then Delete and delete all current MX Records

19 - Go back to the Office 365 screen and take note of both records

20 - Now add the MX Record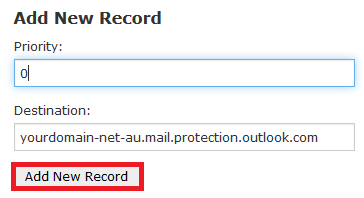 21 - Make sure that Email Routing is set to Remote Mail Exchanger.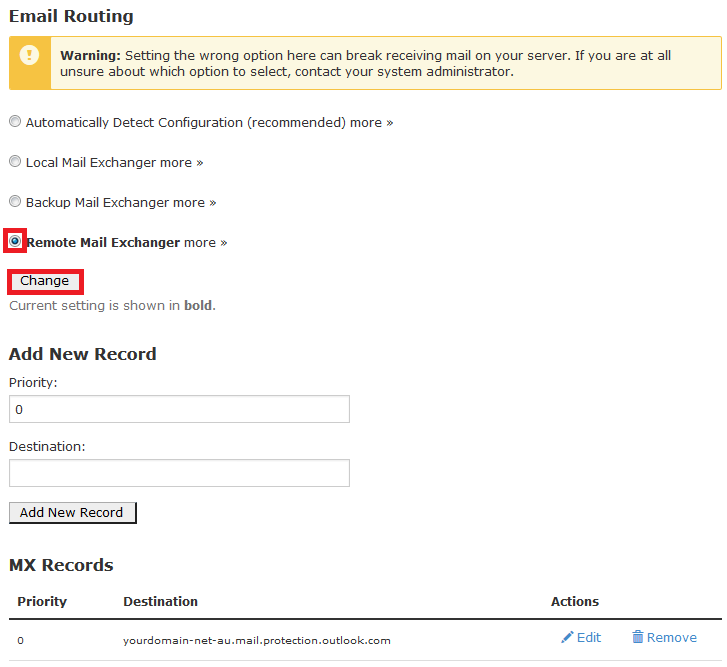 22 - Go back to the Office 365 window, scroll down and click Verify. Note that the records can take up to 4hrs to propagate and verify (though it's normally closer to 60min). We recommend waiting 60min before hitting the verify button.

That's it! Once verification is complete you'll get a screen that says: Congratulations! Your domain setup is completed