How to find the Email Header / EML in Outlook 2016 / 2013 / 2010 / 2007
What is an Email Header / EML file?
Ever email that's sent has 2 parts, the body (what you see when you read the message), and the header. The header has information like the server the email came from, who sent it, what time it was sent, who the email was intended for. This information is important when you get a suspicious email or spam email that slips through the SPAM filter, as it can help find where exactly the email originated from.
Step 1 - (1) Double Click on the email you want to get the EML for then (2) click on Messages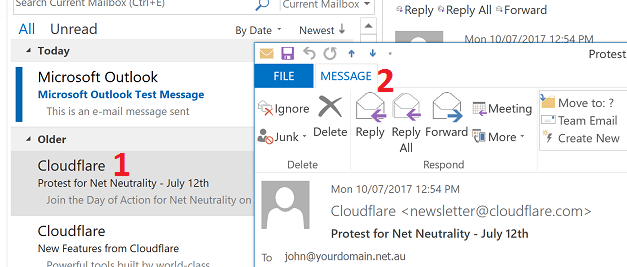 Step 2 - Click on the small

icon near the top right (it may be under the Follow Up icon, or another)

Step 3 - You will see the Internet Headers: at the bottom of this window. Right-click inside the header window, choose Select All, then right-click again and click Copy. Now you can close this window and paste the header into a text document or email to send to us to investigate for you.